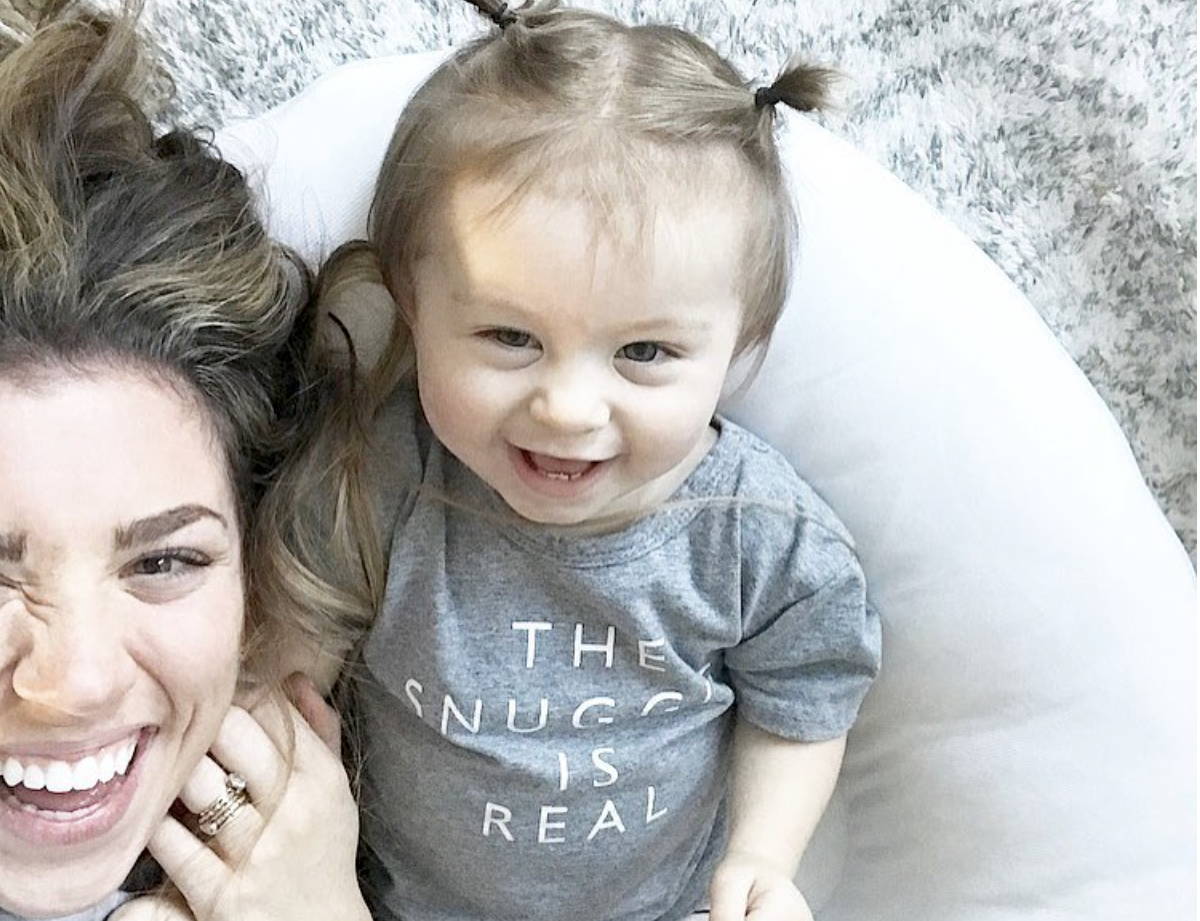 Kristianna Jade is a mom, military wife, hairstylist, and home & style blogger. For her signature style, she uses neutrals as a base with pops of colors, patterns, and textures like leather to make things look fresh.
As a first-time mother to an infant, when her military husband left for trainings, her new life as a stay-at-home-mom became a difficult adjustment. She needed to find a way to be creative so she could feel human again. For inspiration, she loved flipping through magazines, and scrolling through Pinterest and style bloggers' pages. She took it one step further and started taking pictures and connecting with other mothers on Instagram. She loved the support and community she found. She was able to relate so much to the other mothers and it really helped her. Even better, her creative outlet developed into a side job and she now takes pictures for small shops. She loves showing her followers things she truly loves and uses.
Tips for When Daddy is Deployed
"Motherhood is hard. When you throw in being a military wife and planning anything around my husband's job, it's just plain tough!" says Kristianna. "Before my hubby left for his deployment, we recorded him reading a book so my daughter can hear his voice everyday. We do FaceTime as much as possible. I also try to take a break for myself! Keeping my household going and juggling everything while he is away can take a toll so it's important for me to take care of myself! This Father's Day he is deployed, but we made sure to paint him some pretty pictures and send him a happy Father's Day care package with little gifts and goodies!"
Check out her Instagram or read her blog to see her gorgeous neutral style.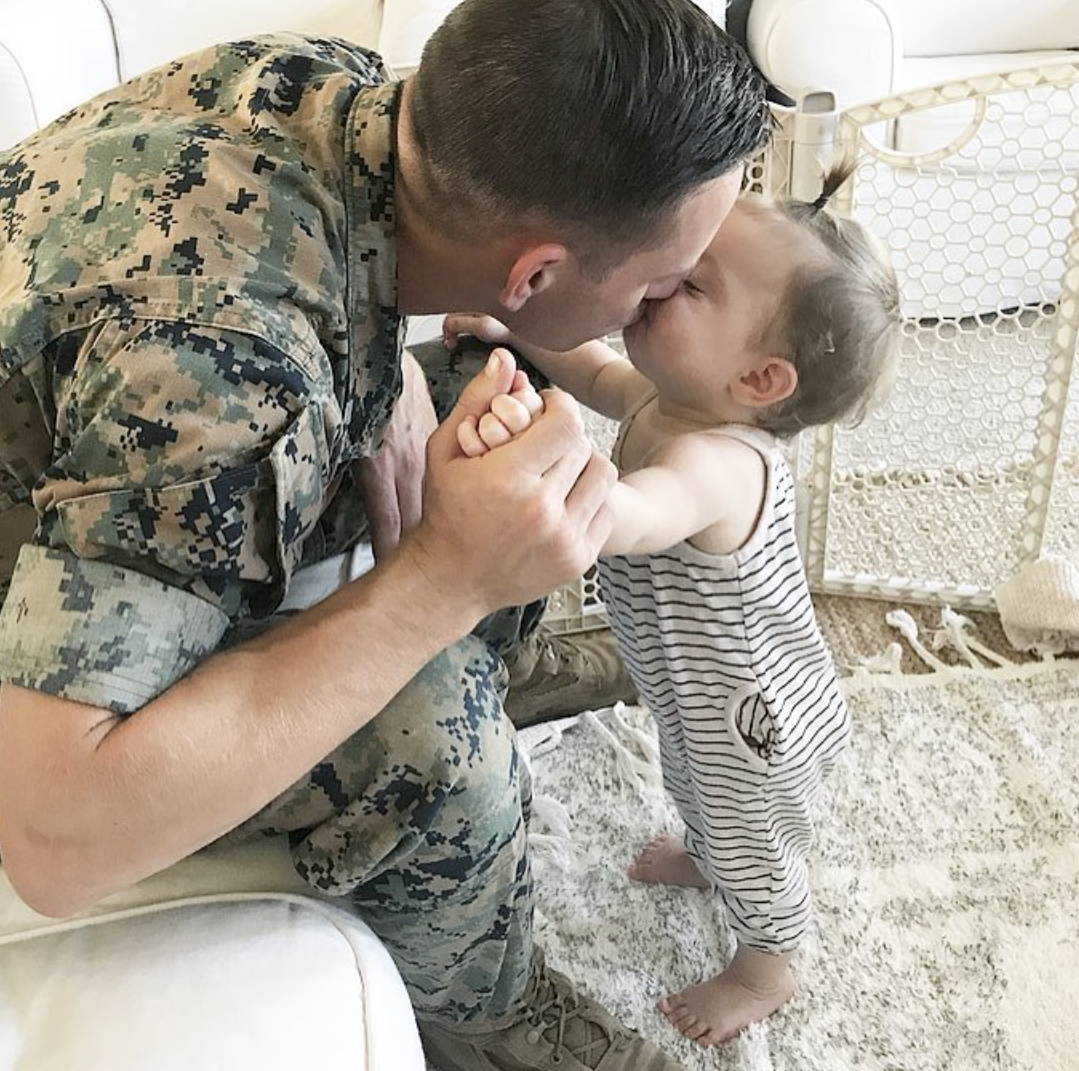 ---
New Mom Friend: More about Kristianna
Me Time: Every Sunday I use the day to go to church and refocus for the week ahead. I call it Shower Shave Sunday because I'll do my face mask, self tanner, and take a deep cleansing shower! Afterwards I moisturize, do my nails, and style my hair for the week! So the rest of days I'm lucky if I brush my teeth. Haha, Jk! But seriously, looking forward to a pampering Sunday is exciting for me. Yes, it's only about an hour and a half of me time but it works wonders!
Mommy and Me Time: I enjoy our time before my daughter goes down for bed. We sing and read her daddy's voice book. It makes me feel like she's still a little baby when she crawls up and cuddles!
Daily Routine: I wake up and make my bed first thing. Something about that ritual makes me feel better. Then, I'll clean bottles, make breakfast and clean the house a little while she watches Elmo! Also, I'll drink some coffee and take a bath if I'm super lucky!
A Few of My Favorite Things: I love a good pair of distressed denim paired with an ankle bootie and graphic or basic t-shirt. If it's cold, I layer it up and if it's hot, I wear cut-off shorts. I am also a sucker for some bandanas. I've always worn them but since becoming a mom it's kinda been my staple piece!
Favorite Quote: Everything happens for a reason. Yes, kinda cliche, but I truly think everything does happen for a reason. Sometimes it's hard to accept it, but a few years from now it will make sense!
Keeping It Real -> Toughest Thing About Motherhood: Honestly, motherhood is just tough, period! It's by far the hardest thing I've gone trough and I've gone through some crap for my age! I struggled with postpartum anxiety/depression for about the entire first year and that made it really hard to enjoy motherhood.
Keeping It Real -> Best Thing About Motherhood: The best thing is seeing my daughter smile or laugh or when she runs up to give me a hug or kiss!