Dance Studio Owners and Dance Teachers Love Our Leotards
Perfect for Dance Recitals and Costumes
If you are a dance studio owner or dance teacher and aren't familiar with our products, we'd like to welcome you to The Leotard Boutique. If you're a returning customer, thanks for coming back!
As a small, woman-owned company dedicated to providing excellent customer service, we appreciate each and every customer. We've been especially blessed to work with dance studio owners and dance teachers who purchase or recommend our leotards, skirts, and tights for recitals, performances, practice, and dance costumes.  
Please join our Dance Studio Email List. When you sign up we'll send you a promo code to use for your next purchase. You'll also be the first to know about exclusive promotions for dance studios as well as other available discounts.
Leotard Sizes from 6 Months to Women
Our products fit true to size so please encourage parents to measure their children to select a size based on this size chart. It takes the guesswork out of choosing a size. Sizes run from 6M to 12Y. We also offer custom-sized leotards for women and girls.
Our leotards and skirts are 100% made in the USA. That means everything: the fabric, elastic, & thread are all made in the USA. It also means that our leotards and skirts are dyed, cut, and sewn in America. We take great pride in the quality and value of our products, along with the service we provide to you. We are so glad you are buying something that is 100% made in the USA.
---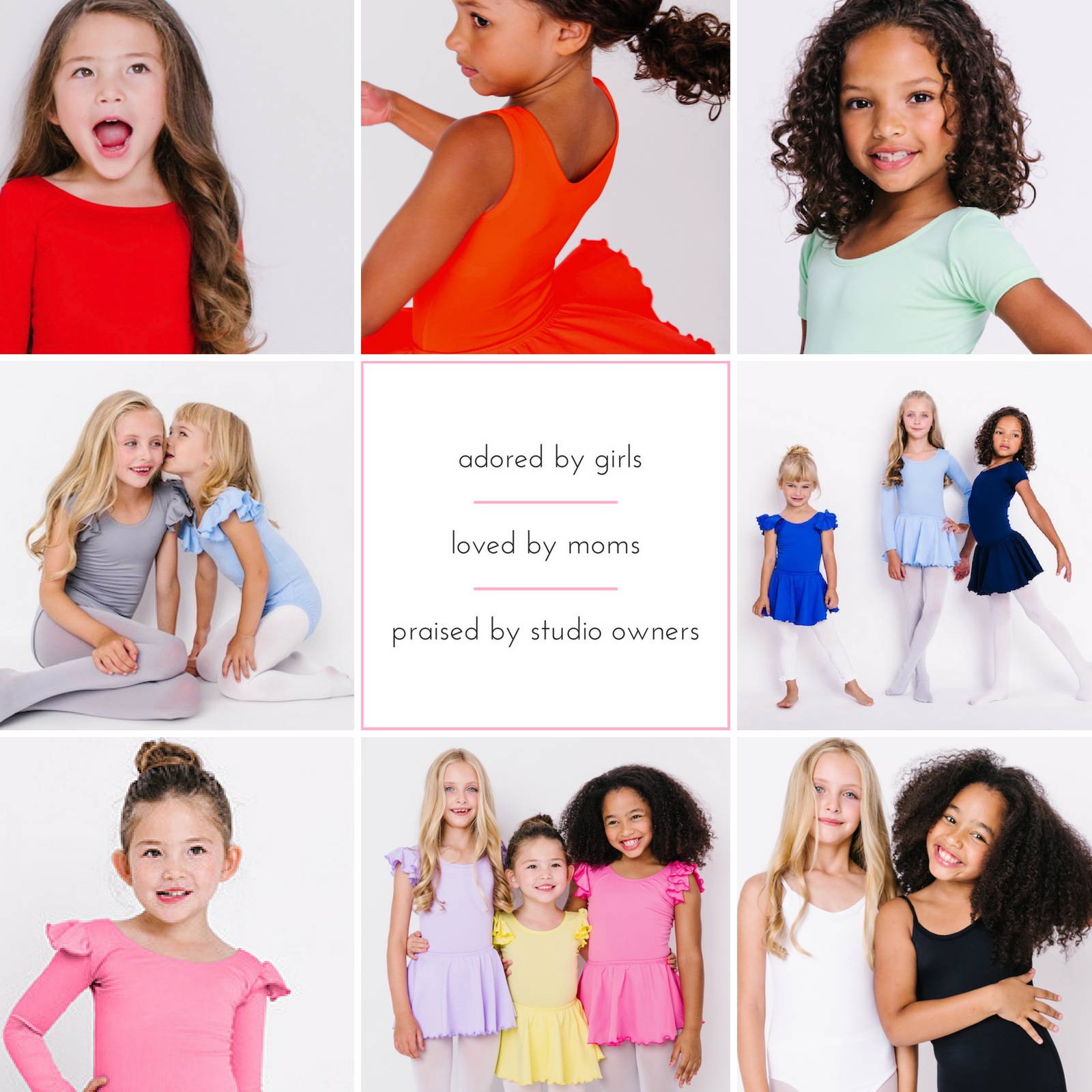 REVIEWS

THE BEST
As the buyer for a dance studio, I buy a lot of leotards. Nowhere else has this quality and beauty for such a low price. You will be thrilled with your purchase.
- Jennifer P.

PERFECT!
Unfortunately, being a dad with no ballet class experience , I quickly ordered mutiple different colored ballet outfits. Apparently, the proper uniform for her class is pink. So when she shows up in the light blue, lavender, or mint green she immediately takes center stage. . . I've reconciled with the teacher and she allows it because . . . well the outfits are awesome.
- Solani

GREAT PURCHASE
My daughter loves her new leotard. I was impressed with the quality and affordability of the dance wear. Everyone at the dance studio asked my daughter where she got her leo. We gladly gave out this company's information.
- Jessica C.
PayPal
Visa
Mastercard
Amex
Discover