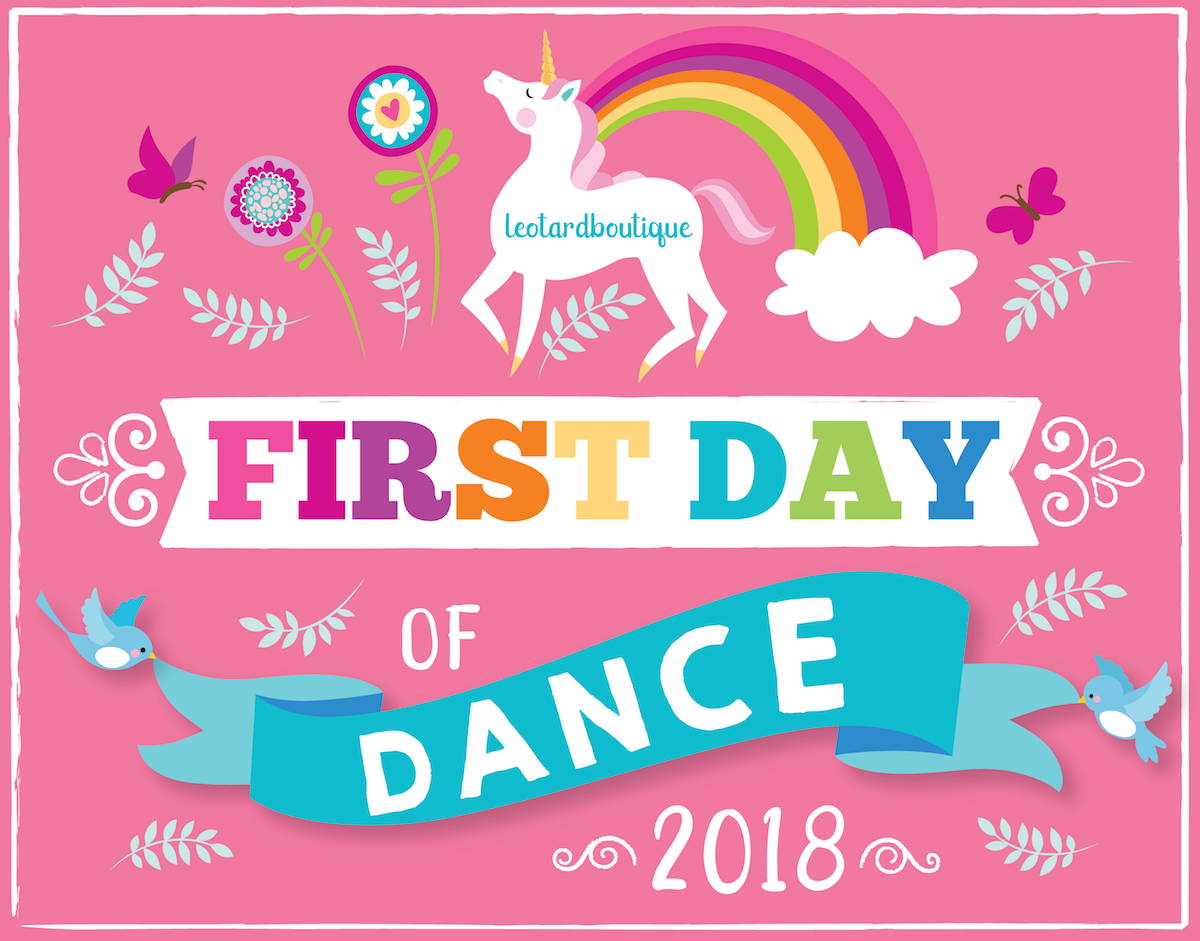 As parents, there are so many moments that we save as snapshots in our minds—the first time you heard her voice, held her, saw those tiny wrinkly fingers, saw her take her first steps, and watched her dance in her first dance class.
Last year, around this time, Melanie, the founder of The Leotard Boutique, bought a very sweet back to school sign online that she downloaded and used for her daughter's first day of school photo. Melanie and her daughter loved this new tradition so much that we asked our illustrator to create one for the first day of dance school. Here it is. We're offering it to you, free of charge. You can simply click here, download and print a PDF of our "First Day of Dance 2018" sign onto an 8 1/2 x 11 sheet of paper.
It's just a little thing we can do to show you how much we appreciate you!
We want you to know that at the Leotard Boutique, when we wrap your items in tissue paper and include a little note, we imagine the moments about to be created and we feel so blessed to be part of them. Of course, we didn't start off in the delivery room with you; however, we've played a role in some pretty spectacular events in your child's young life simply because we make adorable, high, quality, colorful leotards and skirts that so many little girls love to wear on special occasions--birthdays, her first dance outfit, the flower girl dress for your sister's wedding.
Your tiny, sweet and sassy, shy or extroverted daughter—depending on her mood or the hour—will someday be grown up, maybe with a family of her own, but you will have these precious memories for an entire lifetime.
Thanks for letting us be part of it.
Post Your Photo on Instagram for a Chance to Win
We're celebrating our excitement for your daughter's first day of dance school 2018 with a fun photo contest on Instagram and a chance for you to win a free leotard. To enter, click here to download and print a PDF of our "First Day of Dance 2018" sign onto an 8 1/2 x 11 sheet of paper. Feel free to trim the edges or even have your daughter color in some of the letters! Then, snap a picture of your daughter in her dance outfit from The Leotard Boutique and share your photo on Instagram. Be sure to include #leotardboutiquememories and tag us with @leotardboutique. Your Instagram account will also need to be public for us to see your entry. Post your photo by September 21, 2018 for a chance to be one of three winners. (If you have your own letter board sign, you could use that too!) We'll have a special Judges' Award for our favorite back to school photo. The two photos with the most likes on Instagram will also be the winners. Contest open to US residents only. This contest is in no way sponsored, endorsed, administered by, or associated with Instagram.
---